3rd GENERATION REAL ESTATE INVESTOR - MARK WALTERS
Free Real Estate Investing Book
"How To Find Millions In Private Money Loans"
Including Private Money Sources...
Business Credit Sources...
Proof Of Funds Sources...
PLUS Free Money From The Government Sources... (To use for nearly anything you want)
Now You'll Always Have
Access To Cash for Deals!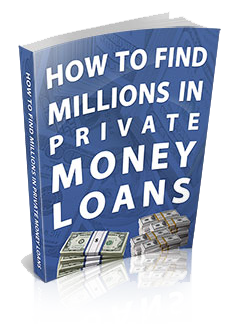 Get Free Instant Access Today...
THANK YOU! THANK YOU! THANK YOU! For the first time in my life I'm putting my money into material that is real and isn't a let down when I close the last page. No fluff is what you offer and I need that in my life and for my financial education and success.